I'm home for Thanksgiving, and as The Fam was gathered around the kitchen table this morning eating breakfast and drinking coffee, we discussed these new pictures of last night's latest Random Awards Ceremony (more on that in a minute).
This is the one that sparked the discussion: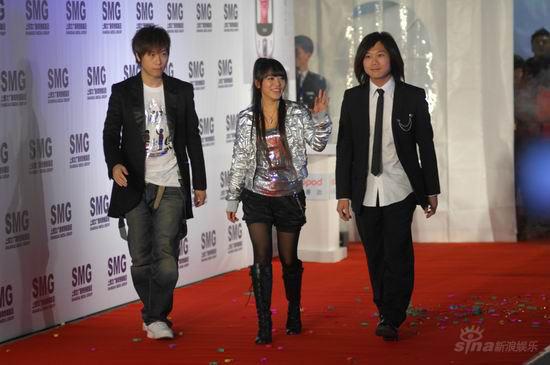 It's just not a good look for Ashin. Ignoring my previously stated opinions on that pair of jeans (or rather, what dangles from them), the whole look is pretty odd. It's like a tuxedo jacket… which does not do the same thing with jeans as, say, a sport coat. Plus, if you are wearing a sport coat or suit jacket with your jeans, white tennis shoes should be automatically ruled out. Printed t-shirts only work with more casual coats. But the real question that got us thinking was the one about why Ashin never wears other pants anymore, no matter what the occasion.
After some brainstorming, we've decided that he looks like he's gained a little weight. It makes sense – with fewer concerts on the horizon, he's not as active… and he says that he is currently working on writing songs for a couple other artists. My dad and I are both working on massive papers this weekend, and we recognize the situation. When you are slaving over your computer all day, sometimes you get a bit stuck on something, and then you need to come up with something to do while you work out how to move forward. The obvious thing to do is to find a snack. I've probably eaten more popcorn in the last two months than most large, suburban movie theaters produce in a year, all in the name of "work." But compare the way Ashin looks in his favorite jeans now to how he looked in Toronto (look at the second picture here). Sorry, but… he's a bit chubbier.
I know Ashin doesn't like people calling him fat. And I'm actually not – he's not fat. Not by a long shot. But he does seem to fill out those jeans more than he did before, leading to the conclusion that he wears them everywhere not for the "fashionable" suspenders, but because they still fit. Well, that's the new working theory, anyway.
Okay, a few quick points from the awards ceremony (because I have to get back to work and, frankly, fix a little snack). It was sponsored by MTV (and is the "2007超级盛典"… um, okay). Mayday won best group. Ashin and Masa presented an award to mainland rocker Wang Feng, and he decided to take the opportunity to clarify on stage that he never really did criticize the Shin Band for its "fake rock." Someone kindly pointed out backstage that this Ashin was of Mayday, not Ashin from the Shin Band. He misspoke, obviously, because as we know, he was reported as having criticized Mayday. Actually, I don't really buy the backtracking now, but if it makes him feel better, whatever.
Ashin also met Paris Hilton, who for no apparent reason was at the awards ceremony in Shanghai (she's spreading… now she's not only randomly turning up everywhere here, but in China, too?). He noted – in a somewhat ungentlemanly observation – that he saw her eating in a restaurant the other day, and she takes huge bites and eats as much as Mayday. But some eat more than others, eh Ashin?
Update: Just to be clear, my point is that if these jeans are, in fact, so beloved by Ashin because they are his "fat pants" (i.e. a pair he feels good about regardless of whatever little fluctuations he has experienced in his weight), then I'm inclined to forgive him for the suspenders and let the whole thing go at last. Who doesn't understand the importance of fat pants?
Update2: The event was the MTV Style Awards. Ummm, Ashin was that badly dressed at an event celebrating Chinese fashion trend setters? Seriously, I think it's time for an intervention.