Stop, thief! Okay, maybe it's not so bad. The big story is that Jay's new album has a song on it called "Time Machine (時光機)." As you no doubt recall, Mayday had both an album and a song called Time Machine that came out five years ago. Well, the press is writing stories about this as though titles can be copyrighted. The reality is that they can't, and titles get repeated all the time. (For example, on the count of three, everyone sing the song "Rainbow (彩虹)." No, no, not the Mayday song, erm, or the Jay song, or the one by Wu Bai or even Yu Quan for that matter – I was thinking of the one by Power Station. I have a soft spot for that one, I don't know why.) So meh, no big deal.
But, of course, Mayday answered questions about the situation anyway. (Hey, both Mayday and Jay have albums to promote now. I'm sure they'll answer questions about anything if you'll stand still long enough to listen.) Ashin says that Jay brought up the issue of the new song to them, and even suggested that the band make an appearance in the video, like Ashin with that "Mayday" song by the girl-group-who-shall-remain-nameless. The band is far too busy to take advantage of this opportunity, and so the world will have to continue to wait for the long-rumored Jay-Mayday collaboration. It looks like all that talk of Ashin writing some lyrics for Jay didn't pan out either, actually. Ah well.
In other news, Mayday was at Hito radio dressed up like an alternative version of the Village People: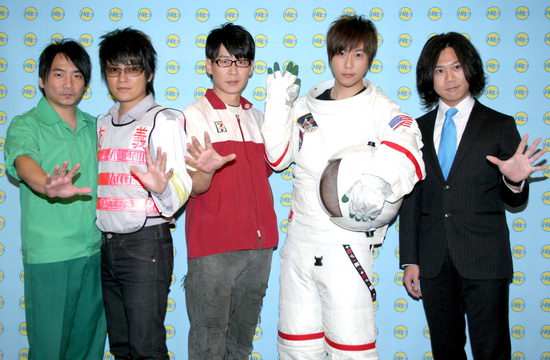 So, moving on. I'm leaving for Shanghai bright and early in the morning (too early… I'm regretting that whole "let's maximize the time in the big city and get the early ticket" idea right now, and I'm sure I'll regret it even more in the morning…) for the famed Music Man show. I've been preparing myself for the disappointment when Leehom inevitably a.) does not cover any song by Meredith Willson and b.) wears some pretty dodgy concert costumes in the name of looking superhero cool. Ah well, at least the man can sing…. Mainland punk band A-OK will be opening the show, so that should be interesting. The latest on Leehom was that when he arrived in Shanghai, he was embarrassed by the sheer number of fans at the airport to see Prison Break star Wentworth Miller (and not him), as they arrived at the same time. I don't see what is so terribly embarrassing about that (especially if you're just trying to slip into town for a concert for tens of thousands of fans), but I do find his choice of eyewear a bit embarrassing. Priorities, Leehom, priorities!!