You know, there is some kind of Chinese p*rn site called 五月天 that I keep bumping into accidentally looking for news (ahem – I bump into news about it getting shut down in Sichuan or some such, not that I'm actually accidentally ending up on the site itself). It's really starting to get on my nerves, but I suppose that's not the main issue just now.
Right. So what we really want to talk about is Mayday's record-setting four nights of concerts at Taipei Arena. (I also want to talk about sodagreen's two-night concert at the same venue earlier this month, but we'll have to save that for another post. Love these pictures.)
One night, Guanyou's elder daughter ("Little Rose") attended the performance to see and hear her dad play for the first time. Of course, a nervous Guanyou broke a drumstick on the fourth song, then messed up again during "Peter and Mary" during one of the encores. Masa told the crowd not to scold him for it, and Ashin said, "It's okay, I understand!" (Yeah, I'm not getting why that's so exciting either, but I just summarize it. That exclamation point is not my own addition.)
Three year old Little Rose might be a bit too young for the "sea of blue" (glowsticks), blazing fireworks and high-effect concerts; she spent most of it looking stunned and burying her little face into her mom's chest, waiting for it all to end. When Guanyou stepped up and sang "Superman" solo (remember, he helped write that one), the camera focused in on his wife's and daughter's faces; she waved her hands along, and can even hum "Suddenly Missing You" in praise of her dad.
About Gary Cao recently making the news with gossip about drunken scenes, Monster joked that someone should have told him earlier; he could have jumped Stone on stage and stolen the headlines away. Stone countered that perhaps it best that he be the one doing the attacking.
Over the course of the four nights, close to 47,000 fans enjoyed Mayday's performances, a Taipei Arena record.
Okay, side note: what is that misshapen blob in the middle of the DNA shirts?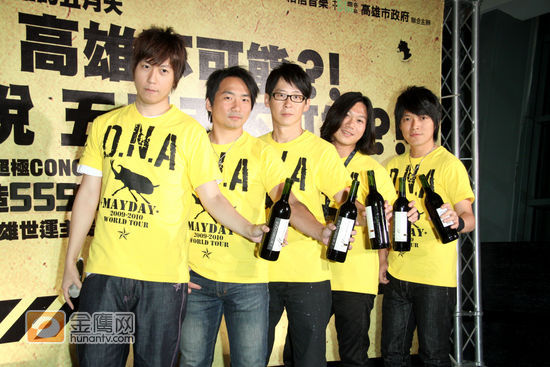 Cockroach? Guitar that's been run over? That's, erm, not what DNA looks like, right?
That article, by the way, has a reference to Mayday accidentally blowing the cover of their teleprompter at the concert, then pretending none of them have a clue what reporters were talking about when they tried to ask about it.
Um, teleprompter? All I can say is, what took Ashin so long to get one?
Now, what's a major concert if Mayday doesn't get fined for exceeding time limits? The Cinderella-like band was supposed to stop by 11 p.m, and then absolutely shut down and turn into pumpkins promptly at midnight. 'Course, how often does Mayday actually stop on schedule? The concert organizers were fined over US$50,000.
Okay, seriously, we hear about these fines every concert, and they're always these obscene figures. Can they really be paying that much money in fines? How do they make any money at all?? I've been wanting to ask that for a while now. Of course, the fines are minor compared to the production fees, which for the four nights were over US$2.4 million. Okay, you can't hear me, but I just whistled. Now we know why ticket prices can be so expensive. (So 47,000 people times what makes this profitable? Over $50 a ticket just to break even….)
Not wanting to end up blacklisted by the Arena powers-that-be, the band's management shut them down just before midnight each night, shutting down lights and shutting off the sound. One night, the band grabbed flashlights to make their way off the stage as the crowd sang "laaa, la la, laa…" (did you recognize those? That's from "Fool.") It's a slightly unusual way to end a concert, but still quite moving.
Just because the band leaves, that doesn't mean the fans do, though. For a half an hour after that, fans continued to scream and holler for encores. Finally, Masa and Ashin went through the loudspeaker system to thank the fans for their enthusiasm as request that they head home. Afterwards, Ashin guiltily admitted in an interview that they felt bad about how late the arena workers were forced to stay to clean up after them, each night keeping them there a little later than the previous one. Side note – Ashin also noted that he'd heard Taipei Arena has created a "sodagreen clause" for contracts… but that after this, they'll have a "Mayday clause."
Taipei fans might have been forced to leave at midnight, but they got a lot of advantages that other concerts won't see. For one thing, these shows were full of special effects (the likes of which we will not be seeing in Nanjing next week…). Second, not once but twice in these concerts, Monster sang a solo. Monster! Once was something, but the second time it was because his father was attending the concert and Stone chided him into singing his own composition, "Nine Ball."
Turning south, plans are underway for the band to set records in Kaohsiung, looking for 55,555 fans to enjoy their show. The December 5th show could very well have that many people. The band noted that at first they were nervous about the venue, which is huge by any standard, but after the excellent showing of their fans in Taipei they felt more hopeful. What's more, Ashin is promising a whole new show, so expect some fans to head down from Taipei for it.
By the way, can we talk about this picture?
Nine years I lived in Washington, D.C. Nine years… aside from the couple of years I spent in Taiwan (while Mayday was on military hiatus) and China (while Mayday was touring everywhere BUT the Chinese mainland). Not once did I wander down to the National Mall and find them posing there with the Washington Monument in the background. Not once.
If they weren't coming to me next week, I'd be quite annoyed.