…they're baaaack….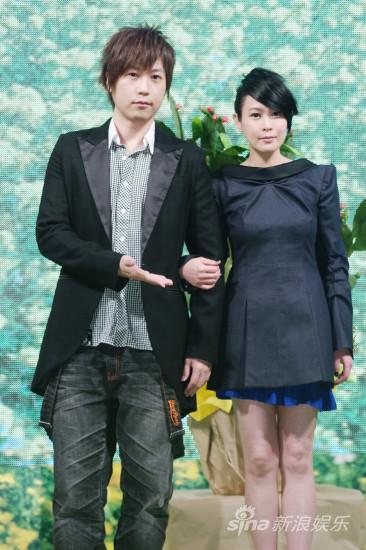 Oh, Ashin, how you break my heart. And while I know I should be thankful that you are wearing an actual jacket (even a tux jacket with tails) and not simply one that has been printed on a StayReal t-shirt, it is hard to be pleased with that progress when you persist, against all of my protests, in wearing those damnable dangling denim suspender jeans. I don't care if they are the same pair or not – I'm guessing that by now you have a whole closet of them, as I at least do not recall the orange trim from the height of the Denim Suspenders Reign of Terror in late 2007 – they are still bits of denim dangling off your jeans, so please, for the love of all things good and holy, I ask you to remove them once and for all.
For those who can see past the suspenders (how? how do you do it?) and want to know about the context, Ashin is promoting new label-mate Rene Liu's new album, which came out on April 16. The leading single off the new album "We're Not Together (我們沒有在一起)" is already a hit on music sharing/download sites, even before the album hit store shelves. (Do people still buy albums in stores? I admit, I mostly buy real albums, but even I usually do it off of Amazon.cn at this point.) Ashin, Masa, and Cheer Chen all contributed their musical talents to the record. Masa stars in one of the music videos, filmed in Japan, as well.
We cannot blame Milk Tea for failing to guide Ashin into better fashion choices, however: his appearance at her press conference was kept a surprise, and she didn't even know he was coming. Plus, I'm not totally sold on her outfit either, as that top looks like she has someone's coat on backwards over a more revealing dress. Anway, Rene is embarking on a multi-city tour starting in Shanghai in May. Question: is she good live? Should I make an effort on this one? Her tour is taking her to a venue about a 15 minute walk from my apartment.

Update: Heaven help us, Joann is right – there will be no end to the suspenders in sight, because Ashin has turned them into a StayReal product and is marketing them to anyone and everyone who likes their denim dangling. See, this is why I don't normally keep up with the StayReal blog; it's too depressing. Side note: erm, are all those Snoopy images licensed? I've seen everything from purses to potato chips with Snoopy on them in China, but I admit I assumed that certain manufacturers were playing fast and loose with the intellectual copyright laws. Amusingly, all of my students know Snoopy but few have ever heard of the Peanuts comic or Charles Schultz.